Over the course of 6 weeks you'll explore photography with this hands–on class designed for students 4th-8th grades. We'll get creative and you will learn how to use a Digital SLR camera and understand all of the settings to take incredible photos! Use your own DSLR or borrow one of ours!
Each week we'll cover one of the basic building blocks of photography and we'll get out and take some pictures to practice what we learn. Our final class will be an exhibit of student work created during the course. Invite your family and friends!
Here's what you'll learn!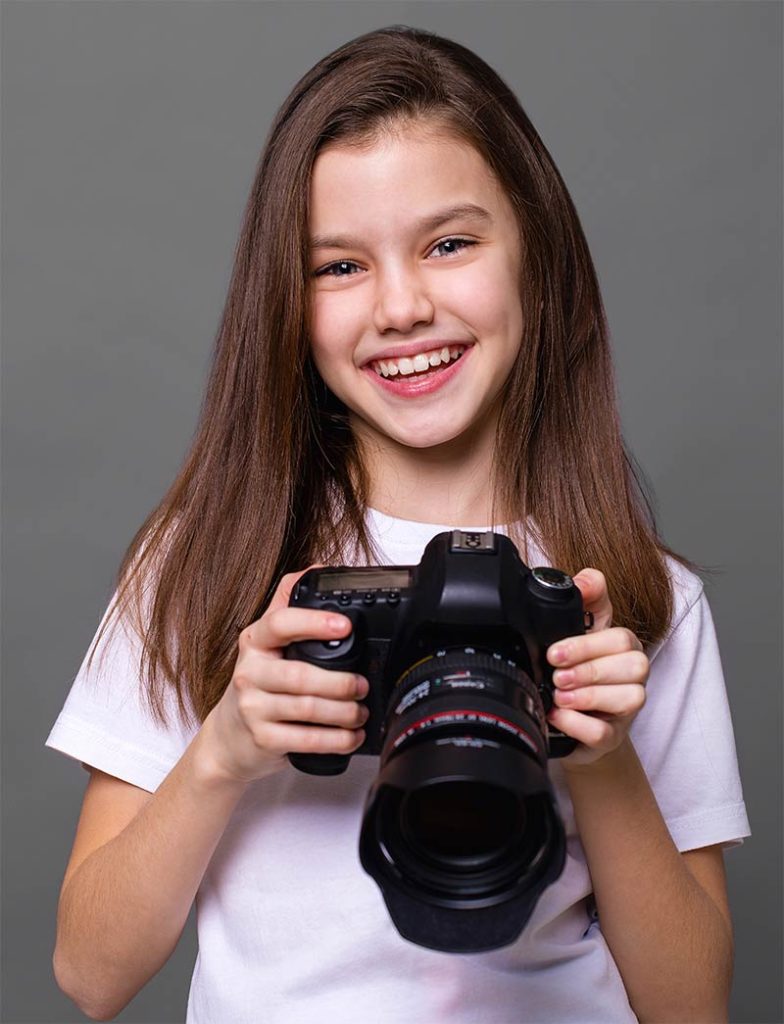 Week 1: Using a DSLR – How to use the equipment, take care of it, and find all of the settings. We'll explore automatic settings and how lenses work.
Week 2: Exposure & ISO – This week we'll dive further into how to properly capture light with the camera. We'll talk about all the manual settings on the camera, dynamic range (light and dark) and how to properly capture a photograph.
Week 3: Aperture & Shutter Speed – Blur from things moving and sitting still! You'll learn what F–stops are and how to freeze motion or make it blur, along with relationships between light and time.
Week 4: Lighting – Have you ever noticed that sometimes pictures outside look different on a cloudy day than on a sunny day? We'll talk about natural and artificial light and how to get creative with both!
Week 5: Composition & The Rule of Thirds – Let's explore what makes a photograph great! You'll learn the "rules" of the artform so we can go out and creatively break them!
Week 6: Editing & Printing – In our last hands–on week we will spend time doing some basic editing on the computer and getting our photos prepared for printing and our final exhibit! This class will explore the differences between how you see a picture on the screen and when it prints.
Week 7: Final Exhibit – Everyone is invited to enjoy the work you've created over the last 6 weeks! There will be treats and prints from each student who wants to participate!
Bring your camera or borrow one!
I want everyone to be able to enjoy learning photography, so if you don't have a camera you've got some options! If you do have your own camera it needs to have the ability to manually change settings for ISO, Shutter Speed, Aperture, and Focus. I have entry–level Canon DSLR cameras that have fully manual settings that you'll need for this class. My cameras also have zoom lenses that allow for nice wide shots to medium zoomed photos. Although not required, it is helpful if your camera has that ability.
Use a RMSEL Camera! There are only 4 cameras so you'll need to share with a classmate depending on how many other students have cameras. There is no extra fee to use a RMSEL camera, and you won't be taking the camera home with you. These cameras will do everything you need for the class, but you have to be careful with them as there's no insurance!
Renting one of my cameras is $100 and you'll be the only one using it during all the class periods. As with RMSEL cameras, you won't be taking the camera home with you. My company offers insurance in case you damage the camera while you're using it for an additional $25. While not required it definitely eases my mind (and yours!) to know we can focus on learning photography and not whether or not the gear is going to break! If you don't want the insurance you'll be responsible for any and all charges related to damaged or broken equipment.
Me and Coralena at Elevenmile State Park on her crew trip this past spring!
If you've been around RMSEL for a while you've probably seen me! My name is Ross and I have 3 kids currently at the school and we've been a part of the RMSEL community for 10 years! I absolutely love photography and got my first camera when I was 10 years old. I've been behind the lens ever since!
I wear a lot of hats and have accompanied my kids (and probably yours!) on a bunch of RMSEL trips and really enjoy seeing them explore new things and learn. My philosophy is a learn–by–experience approach much like RMSEL's, and I bring that same approach to this class.
I'm a professional photographer/videographer as well as a technology nerd and I've got 30 years of experience as a photographer – including my minor in college! I'm super excited to see what the kids will come up with in this class, they have incredible creativity and I want to see them thrive. I'm looking forward to having a lot of fun helping the kids!
–Ross Odegaard